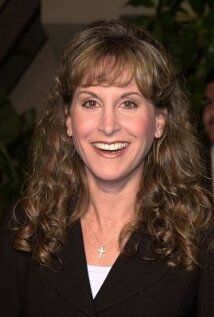 Jodi Marie Marzorati Benson (born on October 10, 1961) is an American actress, voice actress, and soprano singer. She is best known for providing both the speaking and the singing voice of Ariel in Disney's The Little Mermaid (film) and its sequels. Benson voiced the character Barbie in the 1999 movie Toy Story 2, the 2010 Academy Award winning movie Toy Story 3, and the Toy Story toon Hawaiian Vacation. Benson had also voiced Belle in Disney's House of Mouse; while filling in for Belle's original voice actress, Paige O'Hara. For her contributions to the Disney company, Benson was named a Disney Legend in 2011.
Animated TV Shows
Batman Beyond – Aquagirl/Marina
The Little Mermaid – Ariel
Hercules – Helen of Troy
House of Mouse – Ariel & Belle
Camp Lazlo – Patsy Smiles, Almondine & Ms. Jane Doe
The Crippled Lamb – Abigail, Laura Lamb & Mary
Duck Dodgers – Captain Tortelli & Princess Incense
The Grim Adventures of Billy & Mandy – Blue Fairy, Rich Lady & Floraculture Lady
Pepper Ann – Amber O'Mally
Pirates of the Dark Water – Tula
P.J. Sparkles – P.J. Sparkles
Rapsittie Street Kids: Believe in Santa – Lenee
Sofia the First – Ariel & Queen Emmanline
Star vs. The Forces of Evil – Singing Teacher
The Wild Thornberrys – Mother Cheetah
Animated Movies
101 Dalmatians 2 – Anita
Balto 2 – Jenna
Balto 3 – Jenna
Joseph: King of Dreams – Asenath
Lady and the Tramp 2 – Lady
The Little Mermaid – Ariel & Vanessa
The Little Mermaid 2 – Ariel
The Little Mermaid 3 – Ariel
Thumbelina (film) – Thumbelina
Toy Story 2 – Barbie
Toy Story 3 – Barbie
Wreck It Ralph 2 – Ariel
Video Games
The Little Mermaid – Ariel
The Little Mermaid 2 – Ariel
Disneyland Kinect – Ariel
Disney Princess Enchanted Journey – Ariel
Disney Infinity – Ariel
Kingdom of Hearts – Ariel
Kingdom of Hearts 2 – Ariel
Kingdom of Hearts Rechained Memories – Ariel
Onimusha 3: Demon Siege – Mother
Relationships
Knownable Roles
Ariel (1989 – Present)
Vanessa (Ursula's alter ego)
Barbie (Toy Story 2/Toy Story 3 and Toy Story Toons)
???
Quotes
(About an Live Action Little Mermaid film) "I think it's going to be incredible. They are talking about this concept, and the team of people that I've heard mentioned for this particular live-action film sounds quite magical. And I think for Alan [Menken] to be teaming up with Lin-Manuel is going to be phenomenal, and if in fact we have Robbie Marshall, if that is the case, as director and John DeLuca as executive producer. Mary Poppins Returns, I think, was just a fantastic film, so I know that Robbie is an incredible director with a great eye. I think he can handle it. I think it can be delivered in a way that's going to be quite special. I don't know exactly how they'll pull it all off, but I'm sure it'll be amazing".
Trivia
She is a Libra.
She is marry.
Her Chinese Zodiac sign is the Ox.
Gallery