Heaven's Light
is a song feature in
The Hunchback of Notre Dame (film)
.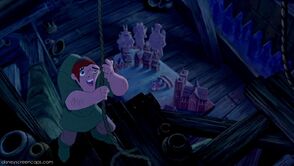 This song is sung by
Quasimodo
(
Tom Hulce
). The song means how Quasimodo has falling in love with
Esmeralda
, and how he has feelings for her after they first met. The song was intended to contrast the song "
Hell Fire
", which was a song that was sung by Claude Frollo moments later. A reprise appears later on in the film, in which Quasimodo is heartbroken about Esmeralda's love for Phoebus.
Plot
This song starts after Quasimodo has encounter with captain Phoebus. He tells the gargoyles that Esmeralda isn't his type.
Lyrics
Quasimodo : So many times out there I've watched a happy pair of lovers walking in the night.
They had a kind of glow around them, It almost looked like Heaven's Light.
I knew I'd never know that warm and loving glow.
Thought I might wish with all my might.
No face as hideous as my face was ever meant for Heaven's Light.
But suddenly an angel as smile at me and kissed my cheek without a trace of fright.
I dare to dream that she might even care for me, and as I ring these bells tonight.
My dark tower seems so bright I spear it must be Heaven's Lightttttttt!
Trivia
This song talks about Esmeralda in a good way. Which is why the song's aura is blue, and it explains why the song is heard at nighttime.
Due to Djali's species in the film, many fans don't know if Djali is a female or male goat. However in the sequel, it shows that Djali is in fact a female.
all information on Heaven's Light came from http://disney.wikia.com/wiki/Hellfire
Gallery
Video